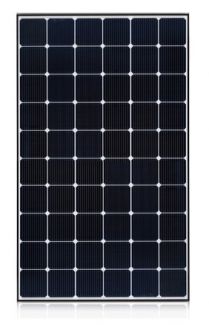 The LG NeON™ 2 is designed to increase output efficiency and is efficient even in limited space. The back of the cell absorbs the light reflecting light off the back of the module, which increases energy generation.
It may also increase the value of your property with its modern design. For instance, it has thinner wires that appear all black at a distance.
LG extended the warranty of the LG NeON 2 for an extra two years because of it's reinforced frame design.
It can endure a front load up to 6000 Pa and a rear load up to 5400 Pa.
LG NeON™2 has an enhanced performance warranty. The annual degradation has fallen from -0.7%/yr to -0.6%/yr. Even after 25 years, the cell guarantees 2.4%p more output than the previous LG NeON™ modules.
It also performs better on sunny days due to improved temperature co-efficiency.
Specs
Mechanical Properties
| Cells | 6 x 10 |
| --- | --- |
| Cell Type | Monocrystalline / N-type |
| Cell dimensions | 156.75 x 156.75 mm / 6 inches |
| Dimensions | 1640 x 1000 x 40 mm 64.57 x 39.37 x 1.57 inch |
| Front load | 6000 Pa / 125 psf |
| Rear load | 5400 Pa / 113 psf |
| Weight | 17.0 ± 0.5 kg / 37.48 ± 1.1 lbs |
| Connector type | MC4, MC4 Compatible, IP67 |
| Junction box | IP 67 with 3 bypass diodes |
| Length of cables | 2 x 1000 mm / 2 x 39.37 in |
| Glass | High transmission tempered glass |
| Frame | Anodized aluminum |
Certifications and Warranty
| Certifications | IEC 61215, IEC 61730-1/-2, UL 1703, ISO 9001, IEC 62716 (Ammonia Test), IEC 61701(Salt Mist Corrosion Test) |
| --- | --- |
| Product warranty | 12 years |
| Module Fire Performance (USA) | Type 2 (UL1703) |
| Output warranty of Pmax | Linear warranty |
Temperature Characteristics
| NOCT | 46 ± 3 °C |
| --- | --- |
| Pmpp | -0.38 %/°C |
| Voc | -0.28 %/°C |
| Isc | 0.03 %/°C |
Electrical Properties
| MPP voltage (Vmpp) | 33.2 |
| --- | --- |
| MPP current (Impp) | 9.50 |
| Open circuit voltage (Voc) | 40.6 |
| Short circuit current (Isc) | 10.02 |
| Module efficiency (%) | 19.2 |
| Operating temperature (°C) | -40 ~ +90 |
| Maximum system voltage (V) | 1000 |
| Maximum series fuse rating (A) | 20 |
| Power tolerance (%) | 0 ~ +3 |
| * | STC (Standard Test Condition): Irradiance 1000 W/m2, Module Temperature 25 °C, AM 1.5 / The nameplate power output is measured and determined by LG Electronics at its sole and absolute discretion. / The typical change in module efficiency at 200 W/m2 in relation to 1000 W/m2 is -2.0%. |